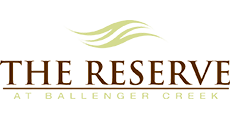 Your Review
Submit a Review

Resident Reviews
I LOVE IT HERE
|

Recommended: Yes
Simply a Wonderful Place to Live|Recommended: YesI have lived here for over seven years and consider this my home and one of the best overall places I have ever resided. Every aspect of apartment living is superior at The Reserve at Ballenger Creek. The property manager, Louise, is not only supremely kind but will go out of her way and will not rest until your issue is resolved to your complete satisfaction. Corey, who also works in the office, will also do anything to help you and always greets me with a warm hello. Although we disagree vehemently about the merits of the Redskins vs the Ravens go Ravens he is genuinely one of the kindest souls you'll ever want to meet. The maintenance here is absolutely superb, and Ricky almost always ensures a same-day response to any maintenance need and will come to your apartment at any hour of the day or night should you encounter an emergency. The grounds are immaculate, the apartments are spacious, and the rents are extremely reasonable for a DC suburb apartment.
Awesome place to raise my daughter. I love it|Recommended: Yesits a calm and friendly place to live at.
Great place to live in Frederick|Recommended: YesRent is reasonable. Facility and grounds services are excellent. Management has been responsive and prompt with every apartment issue that needed attention, repairs or otherwise. Apartment itself is great. Location is great. Lots of shopping nearby, great, great restaurants in downtown Frederick, convenient to major highways. This apartment was rented for my daughters who are working and schooling nearby in Rockville and Baltimore. For the price, the commute which isn't bad if you don't have to drive in rush hour , the facilities, the apartment, this wasn't just a home run, it was a GRAND SLAM
Great response|Recommended: YesEverything was handled professanly and quickly. Thank you
Great apartments. Excellent customer service
|Recommended: Yes
I lived for about a year in this apartment complex and had the best experience. The apartments are upper scale, very well maintained but my rent was very reasonable. My move-in experience was great. They had plates and glasses arranged on the kitchen counter ready for use when we moved in. The master restroom was also ready to use complete with towels, shower curtain, mat, and even some decor. I was thoroughly impressed as I have never seen this anywhere. The master restroom is very spacious and mine even had a window in it. I loved the fact that the washer and dryer are in inside the restroom which made it extremely convenient. Their customer service is outstanding. Corey who is part of their main staff addressed any issues inquiries promptly. In addition to that, their Manager Louise is very polite and helpful. I highly recommend these apartments townhouses to anyone who is looking for a nice neighborhood, nice apartments, decent price and outstanding customer service.
We really appreciate your 5 star review! Thank you for taking the time to review our community We strive to provide the best customer service possible to ensure an enjoyable experience for our residents and are happy to hear that we are meeting your expectations. We are elated to hear that you enjoyed calling the Reserve at Ballenger Creek home!
Thumbs up, applaud the modernization, upgrades|Recommended: YesAlthough I am not on the property a lot due to work travels, I have no real complaints about my experience here. I actually like the aspect of community service and emphasis on community through various initiatives and wish more properties would give back not just to their tenants but the community. I absolutely love the property manager. In 17 years in the military, this by far was one of my my best experiences with management, agents. outside of post housing Not only is she professional but very personable. I experienced an issue shortly after leasing and for the most part she was understanding. This property was on the list of Ft Detrick recommendations, I would recommend this property program to Service Members who are new to the area.
Amazing|Recommended: YesWe absolutely love living here Everyone is friendly and available when you have any questions. We are in love with our apartment and plan to stay here for awhile. Everything is very up to date and beautiful in the apartment We cannot say enough about how much we truly love it here.
Outstanding community|Recommended: YesThey made the move in process easy and have been more than helpful since day one. My wife and I would recommend this community to all of our friends and family looking for a new place to live.
Great Property. Excellent Staff.|Recommended: YesThe staff is great to work with.
Great Place to live|Recommended: YesManagement and Maintenance take prompt action on complaints and issues. Overall pleasing experience Reserve Ballenger Creek Apt.
Nice|Recommended: Yesnice and the staff is also friendly
Nice, quite and quality living|Recommended: YesCheck around... the rent is on the high end, but it's fits my living.
Nice place to live
|Recommended: Yes
The Reserves at Ballenger Creek is a pleasant place to live. The staff is very friendly, the maintenance people are timely and effective, and the apartments and grounds are of good quality. My only complaints are with things that cannot really be controlled by the staff themselves- the parking lot is of poor design and living on the middle floor has been somewhat difficult with noise as well as debris from the upstairs neighbors ending up all over our patio.
Hi Rachel, Thank for taking the time to review Reserve at Ballenger Creek, we sincerely appreciate it. Our property manager would welcome the opportunity to speak with you regarding the concerns you raised to see if there is anything we can do to help. We will be reaching out to you soon. Sincerely, Taryn S.
I love the layout of this apartment and where it's located near the office, pool, and patio.|Recommended: YesI loved my two years renting here its easy to make home. The staff is friendly and the amenities are great. I always felt safe and enjoyed the neat attire of my apartment a lot.