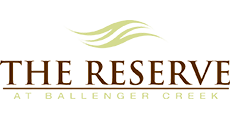 Your Review
Submit a Review

Resident Reviews
I cant answer this because I could not read the whole sentence.
|

Recommended: Yes
Hi Jamilyn, Our team strives to provide amazing customer service and we are happy to hear that we're taking good care of you. Thank you for choosing to call the Reserve home! Sincerely, Ashleigh N.
Decent place, way to expensive
|Recommended: Yes
These apartments have nice upgrades but they are way too expensive. My unit was updated and I had great appliances. The pool isn't very big but nice and the fitness center is decent and secure. Very pet friendly and close to everything. These apartments are constantly dusty with the black appliances. No bug problems at all. Unfortunately for me I had rude neighbors who lived under me. I lived at the top floor and all they did was let their kids run, bang, and scream. It was awful. I complained to the office in writing and they did nothing. My so called walk in closet was a joke. You can step into it but it isn't a true walk in at all. Waaaaaayyyyy to expensive. I moved because the rental rates were going sky high. Over 1800 if I wanted to go month to month is more than a mortgage. I was already paying 1460 which wasn't at all cheap. You will move in and get the best deal for the first year. After that expect rent to go up. Overall a good experience with a few cons
Thank you for taking the time to share your experience with us. We are happy to hear that overall you were happy with the community, but understand that there are a few improvements that could have been made. Typically with noise violations, we ask that they are put in writing, and then we follow up with the apartment that is causing the issue. Unfortunately, it can take a few notices before the issue is resolved. We apologize that you continued to experience an issue after reaching out to our management team. We truly value you as a resident and are happy to discuss lease renewal options with you, to see if there is anything we can do. Please reach out to our Property Manager at 301-668-0777, we look forward to speaking with you soon. Sincerely, Taryn S.
Good for the area, pricey|Recommended: YesBedrooms are too small. Black kitchen counters get dusty on a daily basis. Relatively quiet building until you have a specific neighbor playing an instrument. Management seems to do something about the noise only after 3 or 4 complaints. They have free events here which are nice. Parking is never an issue, but i think it depends on the side of the building you are on.
Great place to live|Recommended: YesA great community with some long time residents that make you feel like home . The only setback I have from living here for over 2 years is the occasional inconsiderate neighbor, which happens regardless of where you live. Other than that, it's a great place to live and close to the highways and places to eat shop.
Great Place to Live |Recommended: YesFor apartment living this cannot be beat Great price - updated clean apartments and have been so happy with very quiet neighbors Clean surroundings, and wonderful staff are there to assist you with any issues The community spirit at the Reserve with all of the fun events that they put on has made my stay a very welcoming experience Safe area, great parking room if your apt. is closer to CVS street side and so close to everything you need
Fantastic Service and Beautiful Apartments|Recommended: YesWe shopped around for a while before finally coming across the Reserve. The location is great, although I wish there was more security or a fence, anyone could walk into the parking lot or walk around the apartment complex. The grounds are always well kept, and the apartments themselves are beautiful. Everything we had issue with was taken care of right away. We can hear our neighbors as if they were right next to us, but I think this is also due to them yelling most of the time, as they aren't the quietest. Some of our appliances aren't the most updated, but other than that most of the apartment feels like new. Customer service is great as well.
Great Location, Great Staff|Recommended: YesThis property is so close to everywhere you want to be The office and maintenance staff are prompt and courteous. The grounds are kept immaculately and any maintenance requests I had were met within 24 hours. My only real complaints are 1 My particular apartment was on the ground floor and I had a family of elephants living above me who got up for work at 3-4am every day and a family across from me who liked to come in late and then argue in the hall on their cellphones. Not Ballenger Creek's fault 2 I put in a maintenance request for my loud, screechy dryer. The request was filled the next day, and they determined there was nothing wrong. After it was serviced, the screeching sound still occurred, along with rust stains on my sheets and clothing and every one of my drawstrings being pulled out and left in a rusty mangled mess on the dryer floor. Despite these issues, it was one of my better apartment experiences and I'd absolutely recommend it.
Great Place to Live|Recommended: YesIt is a great place to live. It is peaceful and quiet. Staff is helpful and kind. We enjoyed the pool this summer. It wasn't too crowded at all.
Very Happy|Recommended: YesWe did a ton of research before moving here. This was the first place we looked at and didn't bother going anywhere else on our list. We are so happy here.
Great place to live|Recommended: YesGreat apartment complex that's pet friendly and has a dog park on premises. Not much more you can ask for
Not military friendly. Made me pay for days that I was not living there because the military sent my orders with in 30 day without notice. Not willing to compromise at all.
|Recommended: No
If you are looking for something very pricey and very small. No walk-in closets. The bathrooms are on the outside of the master bedroom. I have never seen that before. No privacy wall out of the shower. If you need space this is not the place.
Thank you very much for taking the time to review our community and for sharing your concerns with us. We sincerely apologize and are saddened to hear that your experience while residing at our community has been less than pleasant. We take your concerns very seriously and our property manager warmly welcomes the opportunity to further discuss your concerns and to see if we can mend our relationship with you. Please contact her at 301-668-0777 at your earliest opportunity. We look forward to speaking with you soon.
Property|Recommended: YesGreat place to stay. Prices for sure are increasing. Staffing is awesome. Parking is hard at night, but plenty in the back. Pet restriction is my biggest issues, if wouldn't mind staying here forever. Can't have certain breeds on property.
Good For Frederick, But Overpriced|Recommended: YesIt's a nice property, however it's way overpriced. The grounds are great, staff is great, lower noise than normal for apartments although you can still hear through the walls - everyone's just quiet in this complex I have no gripes with anything about the apartment itself, or the staff. It's very nice to live here and the apartment itself is very nice. However, there are similar apartments in Frederick, some newer, which are cheaper and of just as good quality. The Reserve has become overpriced and raised their rates by 15 this year - absolutely greedy. Unless you can afford to spend 1600 I suggest you buy a house or look elsewhere because the company that runs the reserve suddenly became the epitome of greed.
Great place to live |Recommended: YesGreat place to live. Management staff is very nice and easy to work with. Maintenance is handled timely and professionally and they are also very nice.
Good|Recommended: YesGreat